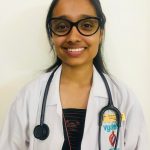 Dr. Diya Sarah Jacob, MBBS
Hi! I'm Diya Sarah Jacob. I was a student at Deens Academy, and my class was amongst the first few batches that passed out from there. After my 10th I pursued Science (PCMB) in 11th and 12th and at the same time prepared for my NEET exam. At that time I wrote CET, COMEDK and AIPMT as NEET had not yet come into existence. To my luck, I got a good rank in CET and therefore got placed into a medical school in Bangalore itself.
At Deens I had been the Head Girl, Sports Captain, House Captain and Prefect too at various points. Having had all these challenging roles and leadership positions gave me an impetus to face the real world outside.
The 1st and 2nd year of Medical School had pre and para-clinical subjects whereas 3rd and 4th year had clinical subjects.  Dissecting cadavers, meeting long lines of patients all day, every day, pricking your own finger for the testing of blood, these were just the first few hurdles I faced.
4.5 years and 19 subjects later I'm now doing my internship. But it doesn't end here. This is only the beginning of a very long journey for me. Internship, post graduation, super-specialization… the list is endless. Medicine is hard work but for those of you who do want to take it up, there is no greater satisfaction on earth than healing the sick and seeing the eyes of a grateful patient when you have done your job well.