EVENT REPORT- CONSTITUTION DAY by Samikshya Panda Grade 11
In November 2015, our Honourable Prime Minister Shri Narendra Modi declared the 26th of November to be celebrated as 'Constitution Day'.
Honouring so, this year's batch of Grade 11 Political Science students chose their juniors to duly celebrate and learn more about the constitution with.
Our focus was on the primary and secondary grades, as we believed that early learning about the workings of the country we live in would be highly educational.
The second and third grade were shown a presentation of facts about our constitution. They were a highly receptive and inquisitive group, which we truly appreciated. They were aware of current affairs and thus asked critical questions.
Grades four and five were a more challenging and interactive group. Their questions and statements were based on previous knowledge. Their talkative nature was well-balanced with their wit and intelligence.
Grade Six was introduced to intra-class treasure hunts, complete with clues and points for correct answers. While they were jovial and humoured, they posed a memorable experience to us with their keen, curious attitude and high intellect.
Grade seven took part in a constitution quiz competition, with two participants who represented each of their classes. Their awareness and knowledge, paired with unconditional support by their classmates, made the nail-biting event a delight to host. Despite a neck-to-neck competition amongst themselves and with time, the students were extremely thankful and learned many facts.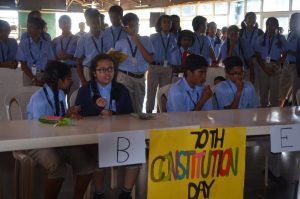 Grade 7 in the final round of the quiz competition
Grade eight was part of a debate competition based on topics posing India in the present day and age. They were, in many aspects, more well-versed with political happenings than we had expected. Their competent nature extended the event to the next day, when the final round was conducted.
Our overall experience as a class with all the students was rich with information, knowledge and positive challenges. From the impertinent second grade to the proficient eighth grade, we learned management skills and how to think creatively and familiarise concepts with children. This gave us an essential glimpse into our teachers' lives and we could not be more grateful for the sheer hard work they put in every day.
We hope to be a part of and learn from many more such events to come. Our hearty gratitude goes to Shiva Sir, Tina Ma'am, Shanthi Ma'am and all the teachers associated with the different grades.
•••••