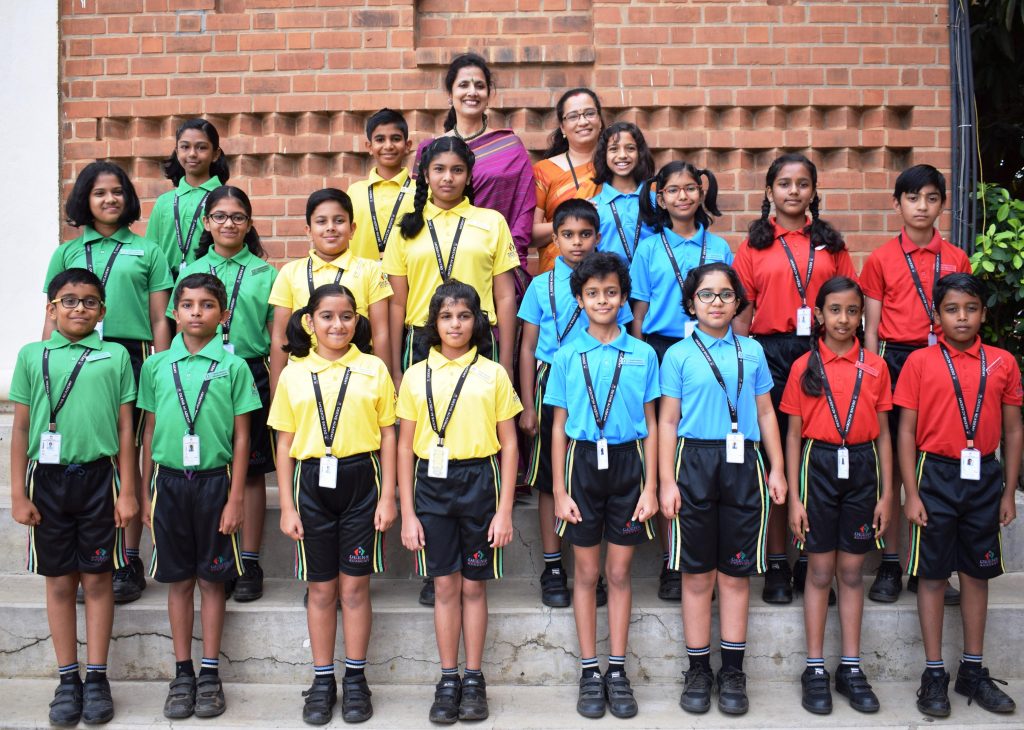 On entry into grade 1, all students become members of a House to foster a spirit of leadership, cooperation, mutual understanding, tolerance and self-reliance. Various inter-house activities are organised to build team spirit. The House system gives opportunities to students to participate in inter-house competitions. Each House is led by a House Mistress from the teaching staff who oversees the well-being and social development of members of the House.
The four houses have Latin names, each indicating qualities to be valued:-
Flavus (yellow-truth),
Rubrus (red-strength),
 Caeruleus (blue-integrity)
 Prasinus (green-valour).
The Houses are graded in the areas of: (a) Sport (b) The Arts (c) Discipline
The Junior Student council:
CAERULEUS HOUSE
HOUSE CAPTAIN: ANYA STEPHEN

PREFECTS: SOBITH SURESH, SYNA SHARMA,MIHIRA HARISH, ADITI AGARWAL
RUBRUS HOUSE
HOUSE CAPTAIN: MANAS MANGESH PANDE

PREFECTS:MADHURA KADOOKAR ,PRASHANTH SRINIVASAN,TANUJA TADI,SHYAM SUSHANT
PRASINUS HOUSE
HOUSE CAPTAIN: SAALIHA BILAL

PREFECTS: AMEYA DESHMUKH,SAANVI MISHRA,SKYLER QUADROS,NAMITHA NAVANEETH
FLAVUS HOUSE
HOUSE CAPTAIN :AIDAN REMEDIOS

PREFECTS: IRA KANGO,SPRIHA KAMBOJ,ARAV UMALKER,AASHNA PANCHUMARTHI